Meldorf am 8. Dezember:
2. Advent, der neue Freestyler ist da und es hat Wind...Zeit mal wieder aufs Flachwasser zu gehen. Zusammen mit Claudius, den Grothis, Alex, Timo und Micha wurde der Koog fleißig zerrockt. Der anschließende Glühwein und Kuchen war dann das I-Tüpfelchen eines spaßigen Freestyle-Tages.
Heiligenhafen am 7. Dezember:
Nachdem der Orkan "Xaver" durchgezogen war, gab es Samstag am Vormittag noch etwas "Reste-Verwertung" in Heiligenhafen. 4.4 und 78l waren perfekt, um die übrig gebliebenen Wellen zu zerlegen. Zum Aufwärmen ging es im Anschluß noch eine Runde auf den Lübecker Weihnachtsmarkt. Ein super Tag! :)
Glückstadt am 24. November:
Dafür, dass Ebbe war und der Wind recht böig, war es eingentlich ziemlich gut. Weniger Kabbel als erwartet und irgendwie relativ warm für Ende November.
Meldorf am 11. November:
Heute hatten wir weniger Glück. Der Wind war doch schon sehr serh knapp und reicht nur ab und an, um mit 4.8 ins Rutschen zu kommen. Egal, hauptsache draußen gewesen. :)
Heiligenhafen am 10. November:
Zwar war die Vorhersage recht wackelig, aber Claudius und ich fuhren trotzdem gen Heiligenhafen. Vor Ort ging 4.8 relativ gut, sodass sich die Anreise gelohnt hatte.
Westermakelsdorf am 3. November:
Die Vorhersage sah für die  Ostsee vielversprechend aus. Daher ging es mal wieder Richtung Fehmarn. 4.0 lief den ganzen Tag ziemlich gut und es war klasse Heike mal wieder auf dem Wasser zu sehen nach ihrer langen Verletzungspause! Es war eher ein Beachbreak-Abrutschen, aber trotzdem ziemlich schön! Das Licht und die Stimmung im Herbst sind einfach der Hammer!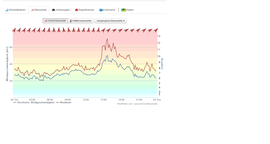 Westermakelsdorf am 28. Oktober:
Orkantief Christian hatte sich in Norddeutschland angekündigt und so zögerten Claudius und ich nicht lange und nahmen den halben Tag frei um Nachmittags aufs Wasser zu kommen. Leider nahm der Wind schnell massiv zu, sodass nach einer kurzen Session nichts mehr ging. Immerhin läuft das 3.3er auch bei Atomhack irgendwie..haha...ein kleines Video vom Tag gibt es hier: https://vimeo.com/78199950
Lübecker Bucht am 11. und 12. Oktober:
Schon unter der Woche verhießen die Vorhersagekarten gut Druck aus Ost fürs Wochenende. Voller Vorfreude fuhr ich Freitag nachmittag gen Ostsee, wo ich Steffi und Dominik traf. Die beiden hatten schon ein paar Runden am ersten Spot gedreht, waren aber von der Buckelpiste nicht wirklich angetan, sodass wir schnell zusammenpackten und weiter die Küste hochfuhren. Der nächste Spot bot herrlichste Bedingungen. Die Wellen kamen in Sets hereingerollt. Sowas hatte ich an der Ostsee noch nie erlebt. Wahnsinn! Wir konnten bis in die Dunkelheit hinein diese herrlichen Wellen surfen und auch das Strafticket am Auto konnte unserer guten Laune kein Abbruch tun. Am Samstag früh kam auch Claudius noch hinzu und wir hatten eine weitere gute Vormittags-Session, wobei die Wellen allerdings kleiner als am Vortag waren. Alles in allem war dies mal wieder ein klasse Surfausflug in heimische Gewässer. :) 
Sylt PWA am am 27. September bis 6. Oktober:
Einen kurzen Bericht gibt es hier.
Meldorf am 22. September:
Irgendwie wollte der vorhergesagte Wind nicht eintreffen. Auch das Warten zahlte sich nicht aus und so war dies wohl einer der schlechtesten Tage seit langem. 15 min Gleiten waren nicht wirklich zufriedenstellend.
Meldorf am 16. September:
Langsam wird es früher dunkel und so war dies heute wohl eine der letzten Feierabend-Sessions des Jahres. 4.8 lief super und ich hatte mal wieder Spaß am Freestylen auch wenn nach einer guten Stunde das Licht aus war. 
Westermakelsdorf am 15. September:
Ziemlich früh ging es für Claudius und mich auf nach Fehmarn, da der Wind gegen Mittag stark nachlassen sollte. Leider war der Wind dann doch schwächer als gedacht und wir kamen geradeso mit dem großen Material ins Rutschen. Da das Wetter super war hatte sich das frühe Aufstehen dann doch gelohnt. 
Meschendorf am 8. September:
Das frühe Aufstehen hatte sich mal wieder gelohnt und so wurden mein Vater, Claudius und ich mit einer schönen Frühsession belohnt. Herrlich.
Selenter See am 6. September:
Kleiner, entspannter Feierabend-Surf auf dem Selenter See. Schön wars!
Hanstholm am 31. August und 1. September:
Endlich ging es mal wieder hoch in den Norden. Die Vorhersage sah vielversprechend aus und so trafen wir uns wie auch viele andere Wind- und Wellenhungrige in Hanstholm ein. Nachdem Claudius Samstag relativ schnell die Segel zusammen packen durfte, da er sich ein Platzwunde am Vormittag zuzog (wurde gut genäht ;) ), und wir einen Abstecher nach Thysted ins Krankenhaus machten, war Samstag ein eher beschaulicher Surftag. Am Abend und Sonntag konnte ich die Wellen und den Wind noch mit Freunden genießen. Claudius machte trotz Blessuren ein paar schöne Bilder. Für mich war das Wochenende surftechnisch ok, auch wenn es unschön zu sehen war, dass Claudius nicht mehr fahren konnte. 
Römö am 18. August:
Gut Druck aus SSW-SW ließen Claudius einen Tagesausflug nach Römö unternehmen. Der Wind reichte gut fürs 4.4, Welle war ordentlich vorhanden, aber recht kabbelig und irgendwie hatte die ganze nördliche Hemisphere den selben Einfall wie wir .... voll war es! Egal, war trotzdem klasse. Es regnete sogar weniger als angesagt war. :) 

Elbe am 13. August:
Heute gab es eine kleine Feierabend-Session mit 4.4 auf der Elbe. Kabbelig, aber schön.

Meldorf am 11. August:
Direkt zurück aus Teneriffa ging es auf den Meldorfer Speicherkoog. Nice to be back in the North! 4.4 lief gut. Besonders hat es mich gefreut mal wieder ein Ründchen mit meinem Vater zu surfen, der für das Wochenende in den Norden gekommen war.
Teneriffa am 2. bis 10. August:
Den Report gibt es hier.

Westerland am 28. Juli:
Am letzten Tag der Deutschen Meisterschaft auf Sylt gab es etwas wind. Leider zu wenig, für Wettkämpfe in Wave, aber genug, um ein wenig rumzudatteln. War mal wieder witzig vor Westerland zu surfen.

Meldorf am 19. Juli:
Leider war der Wind schon so gut wie weg als wir endlich in Meldorf ankamne. Für 4.8 reichte es dennoch ab und an in den Böen... Nix dolles...aber besser als nix.

Hanstholm am 13. und 14. Juli:
Mal wieder ging es nach Hanstholm. Leider war es sehr voll, sodass es auf dem Wasser recht eng war. :( Alles in allem waren der Samstag und der Sonntag recht gut für 4.0 bzw. 3.6. Auch war es klasse mal wieder neue Gesichter am Spot zu sehen. Christian und Jannes haben es auch endlich mal hoch geschafft und haben ordentlich abgeliefert. Respekt! Ansonsten waren die üblichen Verdächtigen vor Ort: Andre und Fabi, der mal wieder keine Umstände gescheut hat, um von München hoch zu kommen. :)
Elbe am 11. Juli:
Kleine Freestyle-Einlage mit 4.8 auf der Elbe. Böig, aber schön warm. :)

Hanstholm am 29. und 30. Juni:
Nachdem es letztes Wochenende an die holländische Küste ging, war es mal wieder Zeit für Dänemark. Zusammen mit Nadine und Andre ging es nach Hansthom, wo wir viele bekannte Gesichter trafen (Oli, Micha, Konni, Anja, Kerstin, Fiete, etc.). Der Samstag ließ nichts zu wünschen übrig: 3.3 und sehr gepflegte Wellen. Am Sonntag konnten wir das Wochenende mit 4.0 ausklingen lassen, bevor es gen Hamburg zurück ging. War mal wieder top!!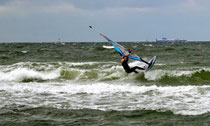 Dackelweg am 26. Juni:
4.0er Wind und kleine Wellen ließen das "Feierabend-Surfer.Herz" höher schlagen! War toll, um einfach mal ein wenig die Seele auf dem Wasser baumeln zu lassen.
Elbien am 25.Juni:
Wijk aan Zee am 22. und 23. Juni:
Kleiner Wochenendaausflug nach Wijk zusammen mit Claudius, Fabi und seinem Bruder, Bernd und Josine. Der Samstag war noch sehr verhalten fürs 4.4er und ich war schon leicht genervt von dem Spot, doch die Pizza am Abend und die gute sonntägliche Frühsession konnten mich dann doch wieder begeistern.

Edersee am 15. Juni:
Ab und an gibt es auch in der Heimat Wind. Und so freestylten Claudius und ich mit 4.8 bei böigen 0-15 Knoten über den See, was dann doch wieder zu einem Duoathlon aus Schwimmen und Surfen wurde. War trotzdem mal wieder schön.

Hanstholm am 8. und 9. Juni:
Claudius und ich verliesen uns mal wieder auf die dänischen Wetterdienste und zogen gen Norden. Am späten Freitag-Abend wurden wir mit einer herrlichen After-Work-Session belohnt. Toll, wenn bis um 23.30 Licht ist :) Samstag früh ging es sehr zeitig zurück aufs Wasser, bevor wir den Nachmittag mit Sonnenbaden und Fischbrötchen futtern verbrachten. Glücklicherweise kehrte Abends der Wind (wenn auch recht böig, dafür mit ordentlich Swell) zurück und es konnte fließig weiter an der Waveriding-Technik gefeilt werden. Am Sonntag früh wurden wir von Carmen und Adi zum Frühstücken mit ihren Schweizer Freunden und Familie eingeladen, was das Wochenende prima abrundete.
Hanstholm am 1. und 2. Juni: